Membership
Contribute by becoming a supporting member.
Choose a type of membership.
Payment by credit cards only.

・Membership fee will automatically be deducted once a year.
・Click here to change details or terminate your membership.
・ID and password will be required in order to make changes or terminate membership. These are written in the email from our credit card payment agent (Another Lance, Inc.). Please keep these emails with care.
・If you wish to change the type of your membership, please terminate your membership once, and then re-apply. We apologize for the inconvenience.
・Membership fee is not tax-deductable as a charitable contribution.
Donation
We ask for donations of 1,000JPY per share.
Choose the number of shares you wish to donate and proceed to the application form.
Payment by credit cards only.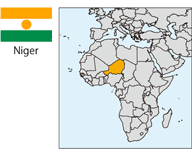 Comment-Niger
Headquarters
4-9-15 Goshogaoka, Moriya, Ibaraki 302-0119

Tel 0297-48-7009
Fax 020-4668-2293
info@comment-niger.org

Niamey Liaison Office
Comment-Niger
PO.Box 12212 Niamey
REPUBLIQUE DU NIGER
Tel +227 9689 1069

,likebtn,,{"twitter":true,"facebook":true,"mixi":false,"google":false,"mixikey":"","hatena":false,"pocket":false,"linkedin":false,"line":false,"tumblr":false,"pinterest":false,"facebookCom":false,"sortItems":["facebook","twitter"]}