PR efforts for the Republic of Niger
Niger Caravan in Japan
We hold seminars and photo exhibitions throughout Japan in order to raise awareness and recognition about the Republic of Niger. This project began in 2011 and is still on-going as of 2015.
Returning electricity for electricity
Donating Solar Lanterns
The project began as a return of our gratitude in the form of natural energy for having enjoyed the benefit of Nigerien uranium. We have been donating solar lanterns to villages where there is no electricity. Here are some comments from the recipients: "We can now see each-others' face at supper"; "I can study at night, even if I am not able to go to school during the day"; "We are now free from the fear of fire at night". In March 2014, we have been donated 200 sets of solar lantern as a part of Panasonic's "100 Thousand Solar Lanterns Project', which we safely delivered to and distributed in Niger.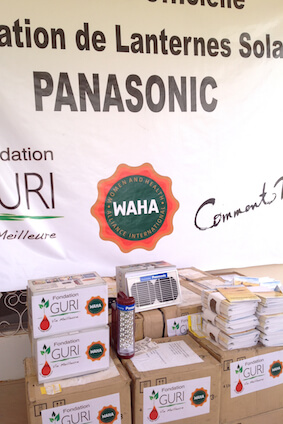 Setting up the lanters (1min. 59 sec.)
Hear the jubilation as the lantern is lit!
* The first 24 seconds is dark because this was filmed at night.


Studying under the lantern (21 sec.)
A boy from a household without electricity immediately began writing under the solar lantern light. With this lantern, the family can save the costs to buy candles and batteries for torch. As a result, the boy could attend school, and buy essential goods.


Words of thanks from the children (15 sec.)
A girl says "thank you" many times.


Amused by the solar panel (15 sec.)
Solar panels attracts children's curiosity as to how and why it can change the sunlight to electric light at night. Such curiosity, we believe, would plant a seed for an interest towards science.

a school open to anyone, at any time
TERAKOYA project
This project aims to open up a "Terakoya", a school that teaches basic reading and writing skills, at villages without electricity. Our first Terakoya is set up in the village of Koira Tegui, Kollo Department, where we donated solar lanterns in March,2014. The classes are targeted at the community's illiterate population, mainly children who are not enrolled at school. Skills to read and write provides access to further learning such as mathematics, science and other higher knowledge. It will lead to a better chance for employment, and access to health and hygiene knowledge and information. Such foundational knowledge will also reduce vulnerability of the community as a whole.

Requests for seminars and lectures
Learn what Hideko Fukuda, our founder and President, and the first Japanese woman to have lived in the Sahara, has to say about Niger. Send us requests via form below.

*required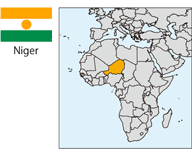 Comment-Niger
Headquarters
4-9-15 Goshogaoka, Moriya, Ibaraki 302-0119

Tel 0297-48-7009
Fax 020-4668-2293
info@comment-niger.org

Niamey Liaison Office
Comment-Niger
PO.Box 12212 Niamey
REPUBLIQUE DU NIGER
Tel +227 9689 1069

,likebtn,,{"twitter":true,"facebook":true,"mixi":false,"google":false,"mixikey":"","hatena":false,"pocket":false,"linkedin":false,"line":false,"tumblr":false,"pinterest":false,"facebookCom":false,"sortItems":["facebook","twitter"]}