5 Wonders of Niger
75% of the land is desert
Majority of Niger's territory is the Saharan desert. The world's highest sand dune is also within the Nigerien territory. Meteorites are often found in the Sahara and the desert is often described as a jewel box.


Kouré:Giraffe Habitat

In the town of Koure in southern Niger, giraffes live in harmony with people as part of the community. The species, Giraffa camelopardalis peralta, is known as the most beautiful giraffe in the world and yet is an endangered species.


Green Tea is Popular
Green tea is a vital source of vitamin C in the desert where vegetables are scarce. The Tuareg nomad who have been living in the desert for thousands of years have a saying about their tea;
the first cup is as bitter as life,
the second cup is as strong as love,
the third cup is as sweet as death


World Heritage Sites
Air and Ténéré Natural Reserves (1991, natural heritage)
W National Park of Niger (1996, natural heritage)
Historic Centre of Agadez (2013, cultural heritage)


The Little Prince
The Sahara is known as the setting for the Little Prince. The brilliant starry sky is almost scary when the moon is dark. In such a soundless beautiful place, the nature and small living things would come speak to you.
Bilateral relationship
One in 24
Up until the Great East Japan Earthquake in 2011, 1 in 24 hours of Japan's electricity was generated from uranium produced in Niger. And yet, in Niger itself, there are no electric power plants for civilian use and a vast majority of its people are living without electricity. Niger and Japan have a long, historical relationship through energy.

About the donation
In response to the Great East Japan Earthquake in 2011, a donation of two million JPY was donated to Japan from the Republic of Niger.
■ the Japanese Ministry of Foreign Affairs website
■ Hideko Fukuda's Blog
Niger Facts
Republic of Niger is an inland state in west African Sahel region. It shares borders with seven countries; Algeria, Mali, Burkina Faso, Benin, Nigeria, Chad, and Libya.

1.Area: 1,267,000㎢
2.Population: 19,900,000 (2015)
3.Capital: Niamey
4.Ethnic groups: Houssa, Dferma Songhai, Kanouri Manga, Tuareg, Toubou, Peuhl, others
5.Languages: French (official), Houssa, others
6.Religion: Islam, Christian, indigeneous beliefs
Revisiting Niger (2014)
I was dazed after seeing the condition of Niamey and the surrounding area after 23 years since my last visit. There were people who lived without water and electricity when I lived there. However, the living condition of those people are worse now. International aid agencies would appear to help for those in the refugee camp. But in a country with the least Human Development Index, condition gets worse slowly and gradually without being teken care of. I heard from others about the severe conditions, but to see it for real was so much different from what I had imagined.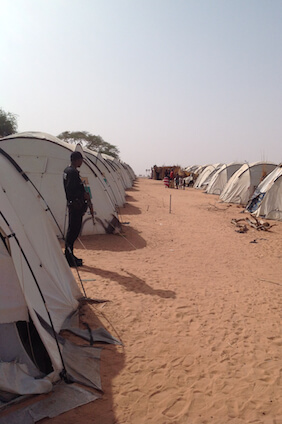 There are various reasons to this deterioration of the living conditions. One is the deterionration of the public security due to terrorism, and the lessening of foreign assistance because of it. The price of uranium, the almost only large source of income for the country, is declining. Rapid population growth can also be attributed as part of the reason. The only change that I have noticed in Niamey is that there were more automobiles in the city. Other than that, there is not much difference since 23 years ago, not even a new modern building.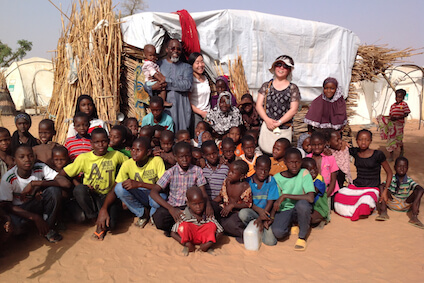 The people live without water and electricity, have very little food and medicine, and are not able to be treated at hospitals. But they live with pride. I have been involved with Niger for 35 years, and believe that although we live very far apart, we can live as a close companion, and to keep thinking about each other. At least, I am determined to do so, and strongly hope that more Japanese people would learn and recognize about Niger.
Fukuda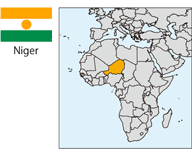 Comment-Niger
Headquarters
4-9-15 Goshogaoka, Moriya, Ibaraki 302-0119

Tel 0297-48-7009
Fax 020-4668-2293
info@comment-niger.org

Niamey Liaison Office
Comment-Niger
PO.Box 12212 Niamey
REPUBLIQUE DU NIGER
Tel +227 9689 1069

,likebtn,,{"twitter":true,"facebook":true,"mixi":false,"google":false,"mixikey":"","hatena":false,"pocket":false,"linkedin":false,"line":false,"tumblr":false,"pinterest":false,"facebookCom":false,"sortItems":["facebook","twitter"]}